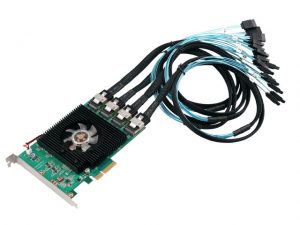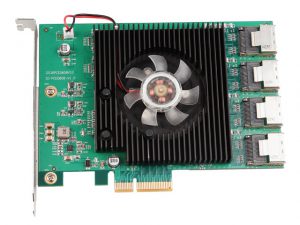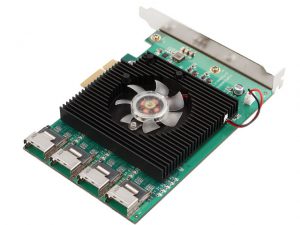 Features
Compliant with PCI-Experss Specification v2.0 and backward compatible with PCI-Express 4x 
Compliant with Serial ATA Specification 3.1
PCI Express x4 interface, and compatible with PCI Express x8 and x16 slots. 
Supports communication speeds of 6.0 Gbps, 3.0 Gbps, and 1.5 Gbps
Hot plug and Hot Swap.
Supports Native Command Queue (NCQ)
Supports AHCI 1.0 programming interface registers for the SATA controller
Supports aggressive power management
Supports error reporting , recovery and correction
Supports Message Signalled Interrupt (MSI)
Supports Programmable transmitter signal levels
Supports Gen 1i, Gen 1x, Gen 2i, Gen 2m, Gen 2x, and Gen 3i
Supports Port Multiplier FIS based switching or command based switching
Supports Partial and Slumber Power Management states
Supports Staggered Spin-up
Compatible with SATA 3.0, 2.0 and 1.0 Hard Drives.
Specifications
Package Contents
SATA 3.0 16-port PCI-Express Controller Card
Driver CD
4 x Mini SAS to SATA Cable
Low Profile Bracket
User Manual
Note: Contents may vary depending on country and market.
System Requirements:
• Windows Server 2003, 2008, 2012, 2016
• Windows XP, Vista, 7, 8,8.1,10
• Linux 2.6.x and above