Part# KRYM-USBC-NIC-PDC-ADPT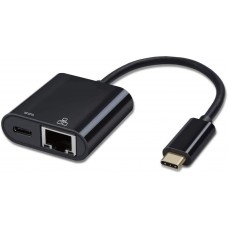 Features
This adapter allows you connect the New Macbook(Pro), Google Chromebook, Pixel, Apple new iPad/iPad Pro (with USB-C port) or other USB-C supported devices to ethernet, and supply power for your devices through USB-C female port simultaneously.
No driver installation required, plug-n-play.
USB-C PD Charging Port supports power charging up to 65W. Video output and charging can work simultaneously. [Note: Please use 45W or above power charging adapter*]
Supports 10/100/1000Mbps bandwidth
Compatible with Windows, Mac, iPad OS or Linux system.
Supports twisted pair crossover detection and auto-correction
Designed to work with the latest generation of computers and smart devices with USB-C port (e.g. MacBook, iPad/iPad Pro (tested), Google ChromeBook Pixel 2015, Dell XPS 13 and etc.)
Suitable for new iPad /iPad Pro (with USB-C only) Point of Sale (POS) system or CCTV Surveillance Client App (24/7) use .
Specifications
Side 1: USB Type C (male) – Thunderbolt 3 compatible
Side 2: RJ-45 Gigabit port + USB-C (female)
Cable Length: 10cm
Chipset: ASIX AX88179
Supports plug-and-play, no driver software is required
Supports 10/100 /1000Mbps auto-detection
Supports Wake-on-LAN
Supports twisted pair crossover detection and auto-correction
Plug and Play
Colour: Black 
USB-C (F) Charging Port*. Support up to 60W (20V/3A)
* A separate USB-C charger required.
If you not sure the compatibility of your devices, please feel free to contact us.