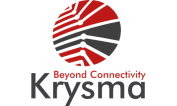 Krysma began in 2016 as a simple idea. With audio-visual, process automation, broadcast and IT becoming more and more prevalent in business and industry, there was an inherent and un-met need for reliable, professional grade connectivity solutions and accessories required to interface them and make them work.
Krysma connectivity solutions became necessities in every professional A/V, process automation or conventional IT environment because they could be counted on to work every time all the time.
At Krysma, we stand for one thing above all else – exceeding our customer's expectations every time with new and innovative high value products. We know in today's busy world, you have more important things to worry about than connectivity products. That is why we strive everyday to make your life, and connectivity a little easier.