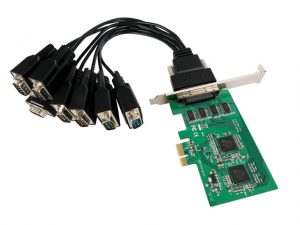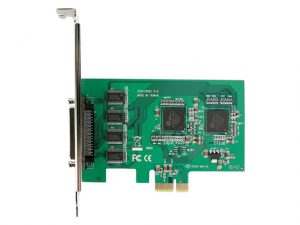 Features
PCI Express base spec 1.1 compliant
PCI power management 1.2 compliant
DMA/bus mastering facility for both UARTs
128-byte deep transmit/receive FIFOs
9,8,7,6 and 5-bit data framing.
Automated in-Band, Xon/Xoff flow control
Advanced FIFO fill management
Certified by CE, FCC, RoHS, and Microsoft WQHL approval.
Specifications
Bus Type: PCI Express
Chipset: Oxford PCIe954
Number of Ports: 8-RS232 Port
Transfer Rate: Up to 921.6Kbps
Dimensions: 80(W) x 80(L) mm
Operating Temperature: -10°C to 80°C
Storage Temperature: -20°C to 100°C
Package Contents
PCI Express 8 Port RS232 card
SCSI62 to 8DB9 Cable
Driver CD
User Manual
Note: Contents may vary depending on country and market.
System Requirements:
• Windows Server 2003, 2008, 2012, 2016
• Windows XP, Vista, 7, 8, 8.1, 10