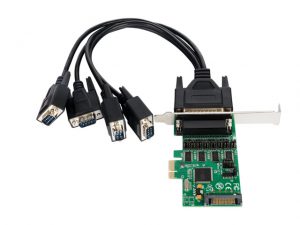 Features
Compliant with PCI Express Base Specification 1.1.
Supports x1, x2, x4, x8, x16 (lane) PCI Express Bus connector keys.
Support 4 x UART serial ports
Built-in 16C950 compatible UART
128-bype deep transmit/receive FIFOs
Data transfer rate up to 230400bps
Optional RS-232 signal or power output to serial device
Provides 5VDC or 12VDC power output via pin 1
Provides 5VDC or 12VDC power output via pin 9
TTL UART for Dedicated Serial Port Selectable TTL voltage level UART for TTL Keyboard etc
Plug-n-Play, I/O address and IRQ assigned by BIOS.
Application: This board offer independent serial ports for connecting terminals, modems, printers, scanners, cash registers, bar code readers, keypads, numeric displays, electrical scales, data acquisition equipment and other serial devices for the PC and compatible systems.
Specifications
Package Contents
RS-232 4-Port PCI-E Card
Driver CD
User manual
Low-profile bracket
RS-232 Fan-out Cable
Note: Contents may vary depending on country and market.
System Requirements:
• Windows Server 2003, 2008, 2012, 2016
• Windows XP, Vista, 7, 8, 8.1, 10
• Linux 2.6.x and above 
• One available PCI Express slot