Part#: KRYM-PCE8111-2GLAN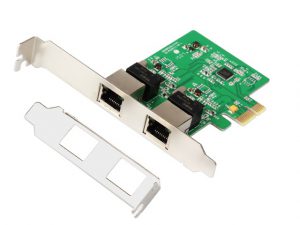 Features
This PCI-Express RTL8111 Dual Gigabit Ethernet controller card is a high performance 10/100/1000 BASE-T Ethernet LAN controller, supports the PCI Express 1.1 bus interface for host communications with power management, and is compliant with the IEEE 802.3u specification for 10/100Mbps Ethernet and the IEEE 802.3ab specification for 1000Mbps Ethernet. It also supports an auxiliary power auto-detect function, and will auto-configure related bits of the PCI power management registers in PCI configuration space, and is perfectly to convert the PCI-Express interface into Dual Gigabit Ethernet ports.
PCI express base SPEC 2.0 and backward compatible with SPEC 1.1 & 1.0a 
PCI Power management SPEC 1.2
Supports 10/100/1000Mbps data rate auto negotiation operation
Supports PCI Express 1.1
Supports pair swap/polarity/skew correction
Crossover Detection & Auto-Correction
Wake-on-LAN and remote wake-up support
Microsoft NDIS5, NDIS6 Checksum Offload (IPv4, IPv6, TCP, UDP) and Segmentation Task-offload (Large send v1 and Large send v2) support
Supports EMAC-393 ECMA ProxZzzy Standard for sleeping hosts
Supports Full Duplex flow control (IEEE 802.3x)
Supports jumbo frame to 9K bytes
Fully compliant with IEEE 802.3, IEEE 802.3u, IEEE 802.3ab
Supports IEEE 802.1P Layer 2 Priority Encoding
Supports IEEE 802.1Q VLAN tagging
Supports IEEE 802.3az-2010 (EEE)
Supports power down/link down power saving/PHY disable mode Built-in switching regulator
Supports PCI MSI (Message Signaled Interrupt) and MSI-X
Supports quad core Receive-Side Scaling (RSS)
Supports Protocol Offload (ARP & NS)
Supports Dual 1-Lane 2.5Gbps PCI Express Bus
Supports hardware ECC (Error Correction Code) function
Supports hardware CRC (Cyclic Redundancy Check) function
Specifications
Chipset: Realtek RTL8111 
Package Contents
PCI Express dual Gigabit Ethernet controller card
Driver CD
User manual
Low-profile bracket 
Note: Contents may vary depending on country and market.
System Requirements:
• Windows Server 2003, 2008, 2012, 2016
• Windows XP, Vista, 7, 8, 8.1, 10
• Linux 2.6.x and above 
• Mac OS 10.3 or later version